---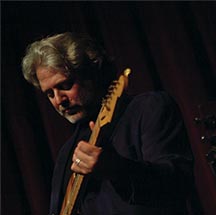 Hailed by critics and fans alike as a one of the finest songwriters of his generation, Dean Friedman has achieved legendary, pop-icon status for chart-topping hits, Ariel, Lucky Stars, Lydia, Woman of Mine, McDonald's Girl and more.
"Every Song a Classic!" - London Theatre Guide, "Songsmith extraordinaire!" – MusicWeek
"Dean Friedman's songs are the soundtrack of our lives" – The New York Times.
"Dean Friedman is entirely unique and utterly brilliant" – ThreeWeeks.
Join Friedman for an evening of powerful, poignant, hilarious songs about the ordinary and extraordinary lives we share.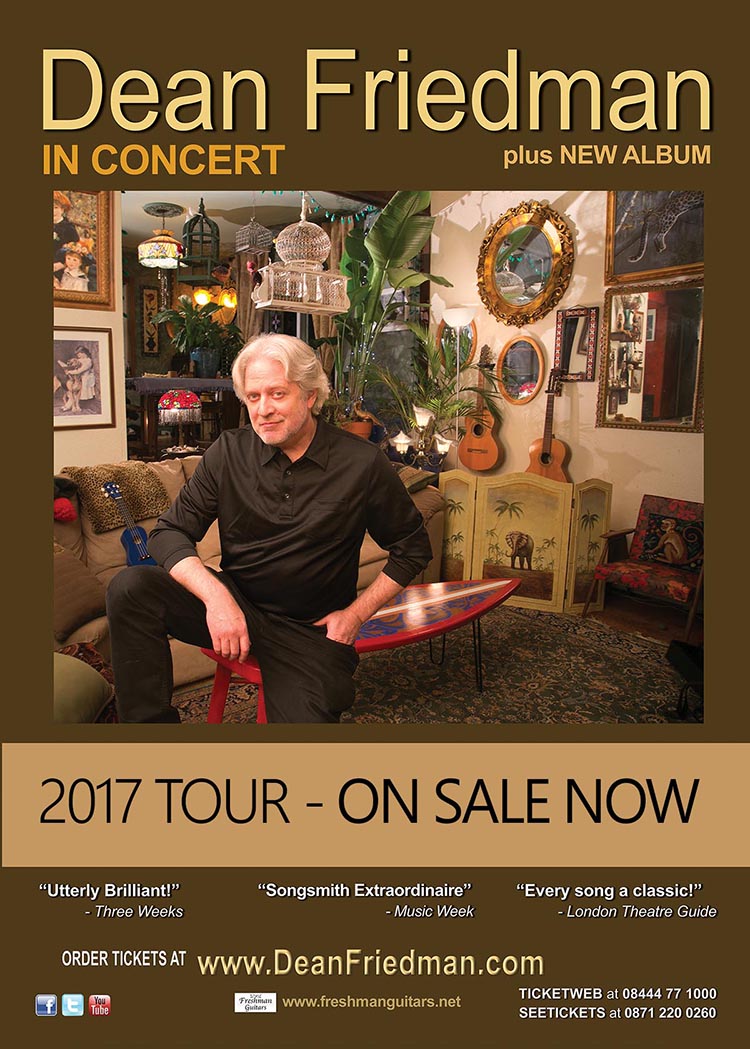 US - GIGS:
Dean Friedman - In Concert 2017
December
2
New York City
The Bitter End - early show 7:00pm start (doors at 6:30pm)

STANDING ROOM ONLY!

ON SALE

9
San Francisco, CA
Fort Mason Center for Arts - Southside Theater

ON SALE

10
Oakland, CA
Rose Avenue Acoustic Delights

[House Concert] early afternoon show 2:00pm start

ON SALE

15
Altadena, CA
Coffee Gallery Backstage

ON SALE

23
Los Angeles, CA
Kulak's Woodshed

ON SALE


NOTE: Email: dean@deanfriedman.com for GIG ALERTS and TOUR UPDATES
UK/IRELAND/FRANCE - 2018 "40th Anniversary "Well, Well," Said the Rocking Chair' TOUR:
Dean's 2018, '40th Anniversary "Well, Well," Said the Rocking Chair' Tour will be announced very soon! Dean will be touring from April thru August 2018. Join Dean's email list to get GIG ALERTS and TOUR UPDATES! CLICK HERE
Meanwhile...
Check out the really cool 'Songwriting Seminar' Dean's running in the south of France...
WEEKEND 'SONGWRITING SEMINAR' at the FRENCH HOUSE PARTY
CARCASSONNE, FRANCE - 2018 Course Dates ANNOUNCED: Friday thru Monday, June 29 thru July 2, 2018
This has become a much-enjoyed summer tradition: Join Dean and a small group of song-loving folks on his fun, informative, illuminating and inspiring 'Songwriting Seminar', June 29 thru July 2, 2018 , in lovely,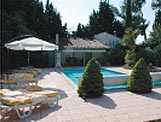 Carcassone, France, in a 200 year old converted stone barn, hosted by the lovely folks of http://frenchhouseparty.co.uk. So, if you like the idea of playing music and talking about songwriting for a few days, in an idyllic spot in the south of France, click on the following link to learn more about the weekend at: http://frenchhouseparty.co.uk or send an email to: enquiries@frenchhouseparty.co.uk .
The weekend course is £895 per person, is limited to only 14 people and includes delicious meals, wine-tasting, pool, tennis, boules pitch, plus a Saturday night Dean Friedman concert. Contact enquiries@frenchhouseparty.co.uk for more info and to sign up.
Check out this video of the seminar...
---
A BIG THANK YOU TO THE SPONSORS OF
DEAN FRIEDMAN's UK/IRELAND/FRANCE TOUR!
This year I've been playing a sweet acoustic guitar - an AB3D Summer [Dreadnought Electro Acoustic] - hand made by the superb luthiers at Freshman Guitars. They're based right outside Glasgow and you can try out their guitars in music stores all over the UK. The one I'm playing speaks in a clear, sweet tone, with lots of presence. Great action and feel. Seriously, I love this guitar! Check 'em out at www.freshmanguitars.net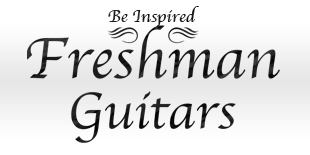 View all
Dean Friedman tour dates
Venues, Theatres, Festivals, Agents: To contact Dean for concert bookings, email: info@deanfriedman.com