! Home Page>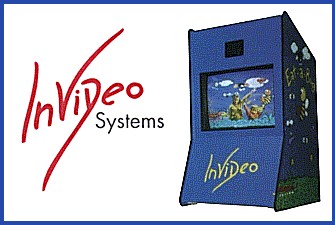 Virtual Reality for the Whole Family
---
Take your family entertainment center into the future with virtual reality environments from InVideo Systems. They're fun, they're popular, and they're highly profitable.
Unlike conventional VR games, our systems don't use cumbersome helmets, gloves or body suits - so they are easy and accessible for the whole family to play, from the tiniest kids, through active teenagers, to parents and grandparents.
You'll find our systems cost effective and easy to maintain, too, as they are clean, hygienic and robust, and can be operated completely unattended.
There are InVideo environments for children of all ages, from fast, skillful games for older kids, to letter and number games designed for younger players, which have the added bonus of being educational as well as fun.
Millions of kids have seen virtual reality from InVideo Systems on the hugely popular Nick Arcade on Nickelodeon TV. Now they want to play too. Take advantage of this national TV exposure by installing an InVideo System in your amusement center.
---
Questions and comments to: Dean
© 2005 InVideo Systems, Inc.